CIVILIAN
UNICORN GUNDAM(UNICORN MODE)
RX-0
19.7 meters
23.7 tons
Rear View
A prototype mobile suit developed for the Earth Federation Forces by Anaheim Electronics, as part of the secret UC Project. The machine is distinguished by its pure white colors and the single horn on its head, and is nicknamed Unicorn. This machine conceals a secret that could shake the future of all humanity.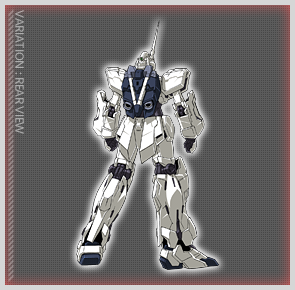 UNICORN GUNDAM(DESTROY MODE)
RX-0
21.7 meters
23.7 tons
Rear View
The true form of the Unicorn Gundam, which appears when its NT-D system is activated. Its internal frame expands, transforming its entire body, and the seams of its armor separate and slide open. The machine's performance, especially its mobility, is dramatically increased while the NT-D system is active. This system activates automatically in response to certain conditions, rather than at the discretion of the pilot, but it is still unclear what these conditions actually are.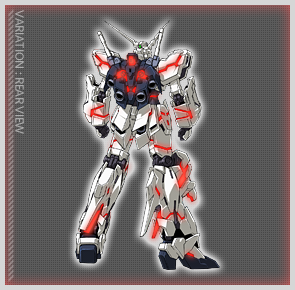 FULL ARMOR UNICORN GUNDAM (UNICORN MODE)
RX-0
19.7 meters
45.1 tons
Rear View
The final battle version of the Unicorn Gundam, loaded with every possible type of equipment remaining aboard the Nahel Argama. This upgrade was based on an idea by Banagher's friend Takuya Irei, with fine-tuning by Aaron Terzieff of Anaheim Electronics.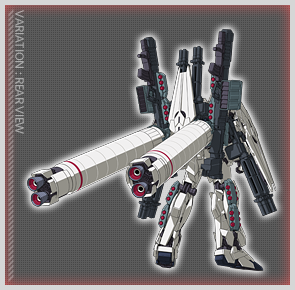 FULL ARMOR UNICORN GUNDAM (DESTROY MODE)
RX-0
21.7 meters
45.1 tons
Rear View
The Full Armor Unicorn Gundam with its NT-D activated. The many weapons attached all over its body don't obstruct its movements, even when its body expands in Destroy Mode, so it can demonstrate its full offensive power.
SILVER BULLET
ARX-014
22.2 meters
33.5 tons
Rear View
An Earth Federation Forces prototype mobile suit. Based on Döven Wolf units captured at Axis after the first Neo Zeon War, it was redesigned at Anaheim Electronics's Granada factory by former staff from the Augusta Labs. Following tests focused on the quasi-psycommu system, some of these machines are said to have been delivered to the Vist Foundation.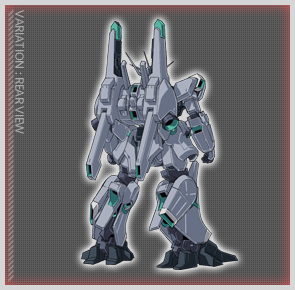 TOROHACHI
TOLRO-800
3 meters
Rear View
A new model of petite worker mobile suit. Its formal name is the "Tolro Company Petite Mobile Suit TOLRO-800 Type," but it is known by the nickname "Torohachi."